High Society
Tue 10th Mar 2015 to Sat 14th Mar 2015

Cole Porter's classic feel-good musical. You're all invited to the wedding of the year! Long Island socialite, Tracy Lord, is planning her lavish summer wedding when her ex-husband appears on the scene to try and win her back. His unwelcome arrival threatens to disrupt the proceedings. When a tabloid reporter, Mike Connor, arrives to cover the nuptials, he too takes a shine to the bride-to-be. But which of these three suitors will she choose?
Photo Gallery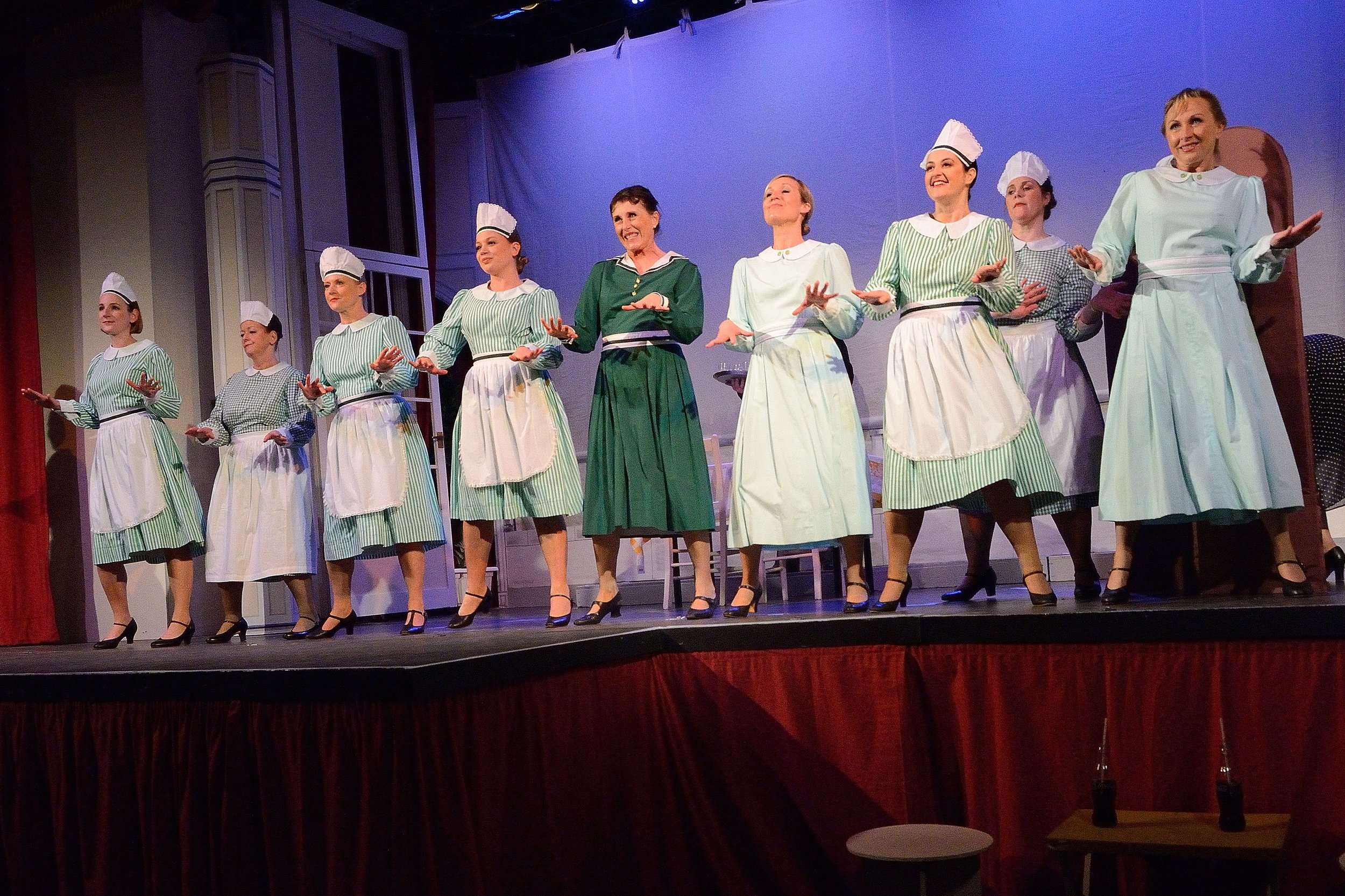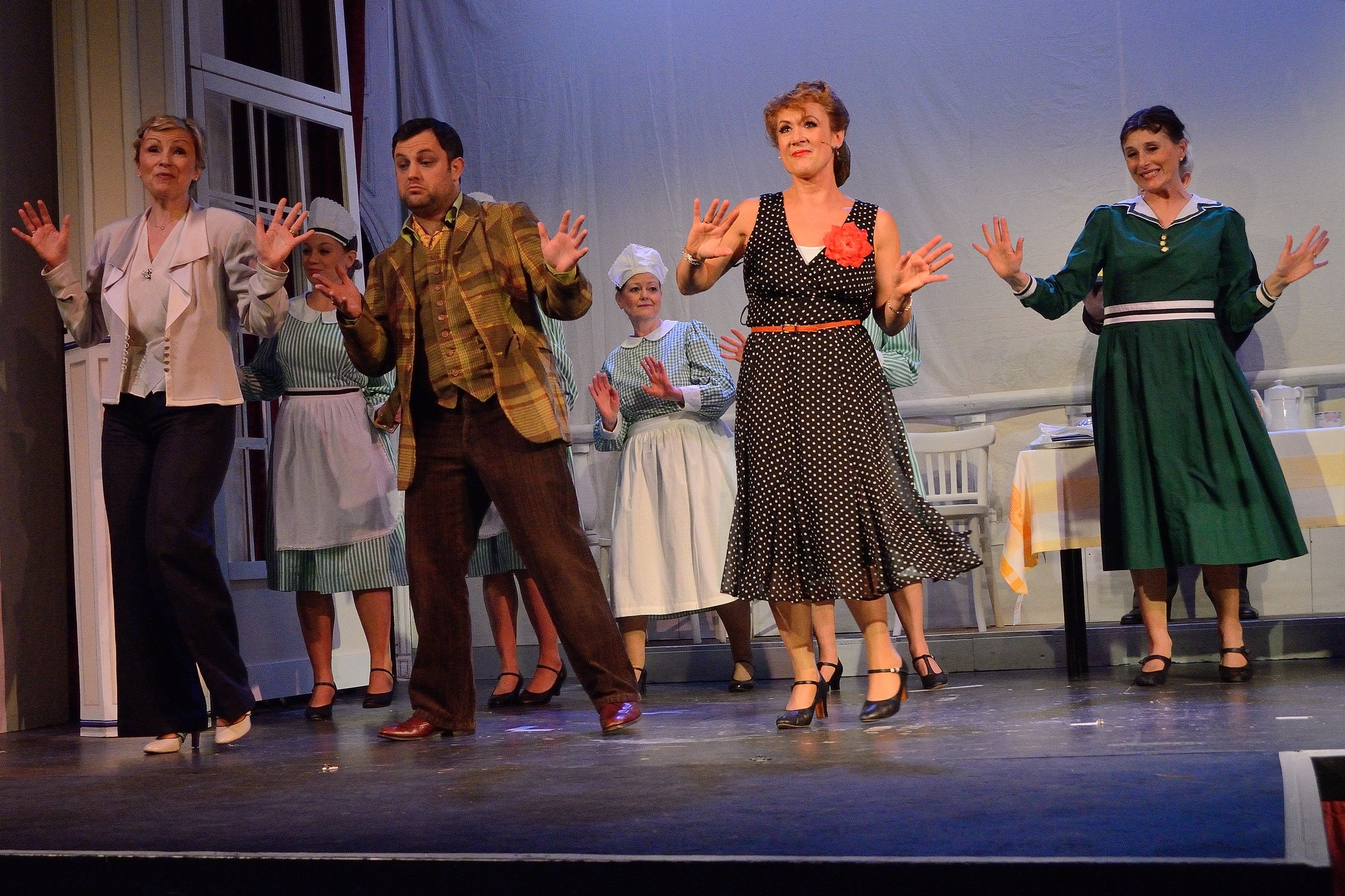 NODA REPORT
14th March 2015
Martyn Harrison assisted by Audrey Harris
Musical Director - Paul Garner
Choreographer- Siobhan Austin-Guest
Report Author: Sue Hartwell, NODA East, District 7
This classic Cole Porter musical, based on "The Philadelphia Story", is best remembered for the iconic 1956 MGM film version, starring Bing Crosby, Grace Kelly and Frank Sinatra. Whilst there are some noticiable differences between the stage play and film adaptation, essentially the action centres around Tracy Lord, a Long Island socialite, as she prepares for her lavish summer wedding. Her plans and emotions are thoroughly upset by the arrival of her ex-husband and in her confusion, she has a brief pre-marital "fling" with a tabloid reporter, who's arrived to cover the wedding story and takes a shine to the bride-to-be.
Saffron Walden Musical Theatre Company pride themselves on putting on award-winning, high-quality performances and this indeed was no exception. Full of sparkle, wonderful singing and choreography, this was another example of the high standards that this society can achieve, both musically and technically, with evident support from a very talented production team.
As always, attention to detail in both set design and costumes visually enhanced the performance, with an almost seamless transition between the various scenes. I particularly loved the mobile clipped bay trees, used to very good effect by the snooping staff members of the Lord's household and the pair of estate entrance wrought iron gates, which backed the musical number Who Wants To Be A Millionaire?, were pretty impressive, too. The only scene that did not work so well was in the family's nursery, which for some reason had been set in an area normally reserved for the orchestra, below the front stage apron at floor level and therefore only visible to those members of the audience in the first two or three rows. I would also question whether it had been necessary to have a fourteen-piece orchestra for this production, as in the film version, Louis Armstrong fronted a small five-piece band. This may, of course, have been a contractual requirement of the performing licence from MusicScope, but still could have been reduced in number as, at times, I felt the orchestra over-powered the performers in volume and, with their presence on stage, forced all the action to be confined to the front half of the stage and extended apron.
That said, the cast coped extremely well with the confined space. The small chorus of ten performers, acting as staff and wedding guests, produced well-balanced and delightfully animated backing support to the various principal characters. Fiona Wilson Waterworth as Mother Lord and Annabel Stringer as Dinah gave convincing performances as mother and younger daughter, as did Kevin O'Meara as contrite Seth Lord, returning home for his daughter's wedding, following a scandalous affair, which the family are anxious to keep out of the tabloid press at all costs. Caroline Mackrilland Gavin Jarvis were well-matched and delightful as the tabloid newpaper photographer and reporter. The larger-than-life character of fun-loving Uncle Willie was exhuberantly portrayed by Richard Foster and Alex Knibbs put in a solid performance as George Kittridge, Tracy's rather intense and nervous "intended", who displayed real angst when her dalliance with Mike Connor is discovered on the eve of their wedding. Debbie Turner is another extremely talented performer and singer, but I wasn't entirely convinced by her portrayal as the frivolous, over-indulged and spoilt elder daughter, about to embark on an unsuitable marriage, to spite her ex-husband. However, her scene with Bob Rawlinson, who admirably portrayed her rather endearingly laid-back ex, Dexter Haven, and their duet True Love in the finale of Act I, was nicely done.
Thank you, Saffron Walden Musical Theatre Company for another fine production, of which you can be justly proud.