Anything Goes
Mon 4th Mar 2013 to Sat 9th Mar 2013

Madcap antics aboard an ocean liner, wrapped around one of Cole Porter's magical scores. This show has so many terrific songs including It's De-Lovely, Friendship, I Get A Kick Out Of You, All Through The Night, Anything Goes, You're The Top and Blow, Gabriel, Blow.
PHOTO GALLERY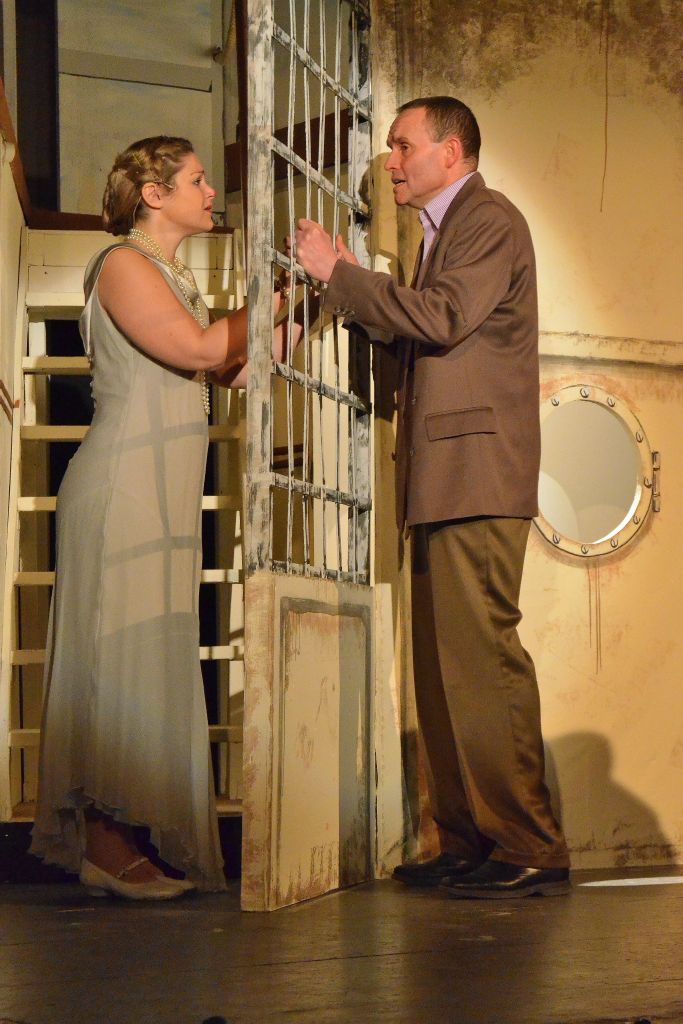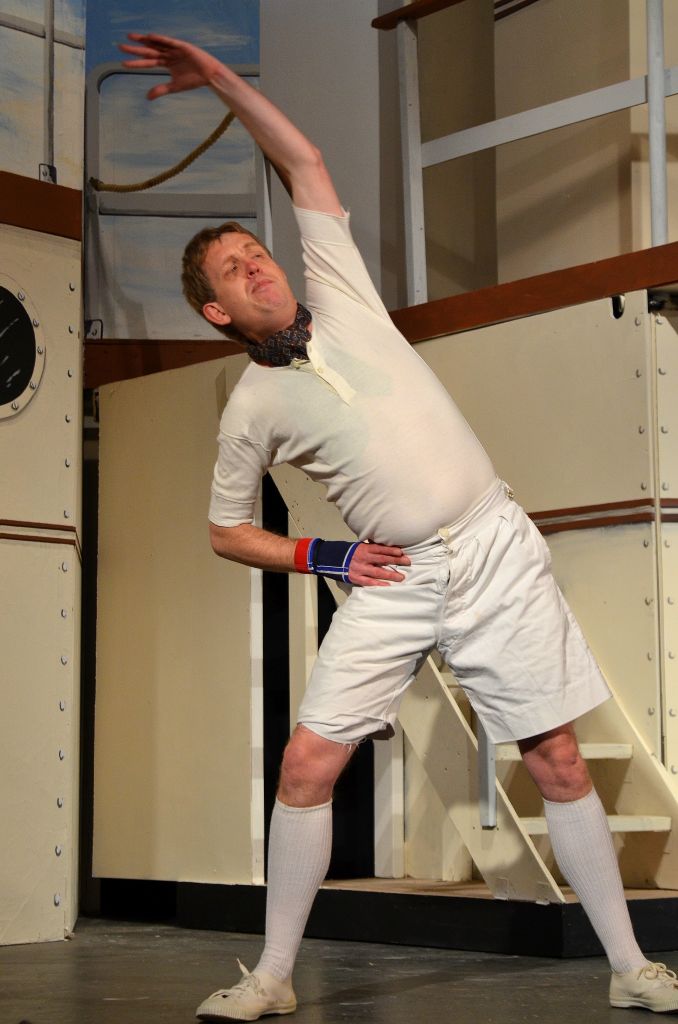 NODA REPORT
7th March 2013
Director - Sara Grimshaw
Musical Director- Keith Oliver Assisted By Sue Hembry
Choreographer - Siobhan Whitehead
Report Author: Sue Hartwell, NODA East, District 7
In his welcoming letter in the nicely-produced programme, Alan Collins, Chairman of SWMTC, invited us to climb abroad the SS American and join the crew and passengers on the ship's voyage from New York to England in this satirical nonsense musical, Cole Porter's "Anything Goes". Thus, we were treated to a stage converted to the very realistic afterdeck of an ocean liner, complete with moveable stairways, upper deck and state room cabin, all designed, engineered and painted in-house by the company's talented set design team.
Amongst the passengers are notorious ganster, but harmless comic, "Moonface Martin", well-played by John Wigmore, ably assisted by his sidekick "Bonnie", hilariously over-played by Louise Constable-Maxwell. Also aboard are wealthy debutante "Hope Harcourt", delightfully portrayed by Annabel Stringer, accompanied by her over-bearing mother with high social moral standards, "Mrs. Harcourt", well-portrayed by Cathy Holding. "Hope" is engaged to an English toff "Sir Evelyn Oakleigh", well-characterised by Matthew Chancellor, but her former love "Billy Crocker", played by Alex Knibbs, is the stowaway assistant to wealthy New York businessman "Elisha Witney", played by Kevin O'Meara. Into this mix is thrown "Billy"'s friend, celebrity nightclub singer "Reno Sweeney", a strong performance here from Gemma Holman, with her backing group "The Angels". Whilst "Billy" assumes several disguises, including that of most wanted public enemy No.1 and his eventual wrongful arrest and incarceration in the ship's brig with "Moonface Martin", "Reno" seduces and wins the heart of "Sir Evelyn", paving the way for "Billy" and "Hope"'s reconciliation.
The action is played out to a background of well-known and toe-tapping Cole Porter musical numbers, such as "You're The Top", "It's de Loverly"; "Let's Misbehave" and the title song "Anything Goes". Most of the principals and chorus numbers were well executed, supported by the tuneful orchestra, under the direction of Keith Oliver. I personally felt that "Reno"'s solo "I Get a Kick Out Of You" was too slow in tempo and very static. In contract, her song "Friendship", with Alex Knibbs ("Billy") and John Wigmore ("Moonface Martin") was better choreographed and more animated. The choreography for the chorus numbers was very repetitive and sadly over-crowded, with the on-looking "passengers and crew members" in the back row looking decidedly out of their comfort zone in the tap dance routines. More grouping and use of the stairways and upper deck area during these company numbers would have made for a better overall picture.
As always, Parma Jacobs had ensured that the cast were decked out in suitable finery for this production. It was nice that her dedication over so many years as Wardrobe Mistress to the company was recognised with a special mention in the Chairman's welcome letter. Technically, the performance came close to achieving the high standards we've come to expect from this talented group, but lacked direction and pace at times.