Fiddler on the Roof
Tue 11th Mar 2014 to Sat 15th Feb 2014

Attempting to live a normal life filled with Jewish tradition in early 20th century Russia, Tevya, a dairy man, and his wife Golde search for appropriate husbands for their daughters Tzeitel, Hodel and Chava. In a break from tradition his daughters refuse to accept the wishes of the matchmaker, Yente, and their father. Instead, they marry men they love.
PHOTO GALLERY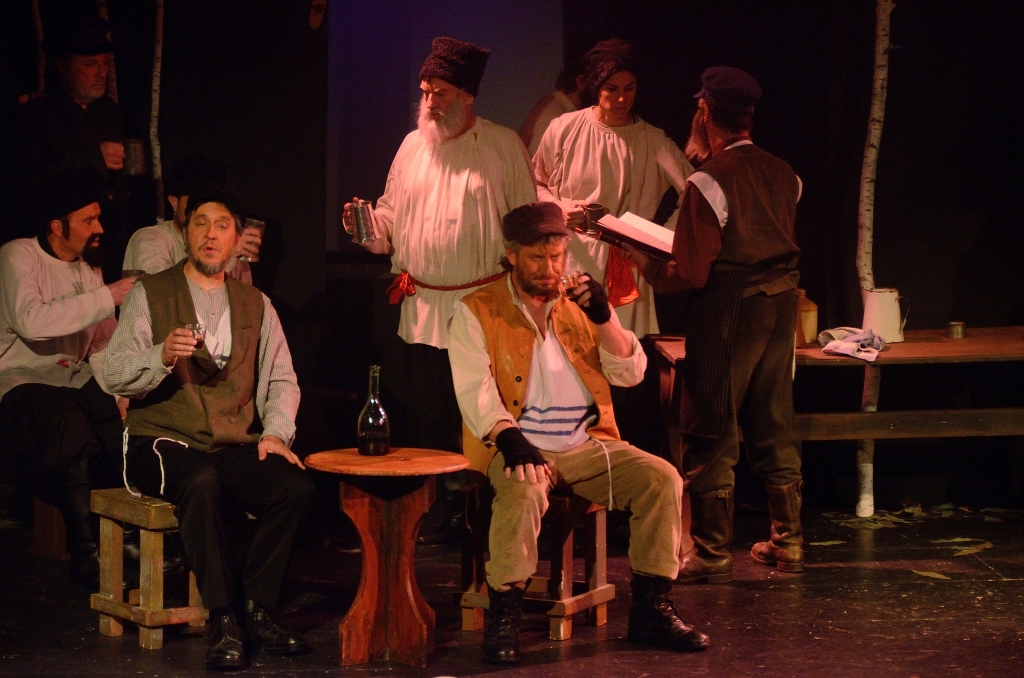 Noda Report
12th March 2014
Director - Martyn Harrison assisted by Audrey Harris
Musical Director - Paul Garner
Choreographer - Siobhan Austin-Guest
Report Author: Sue Hartwell NODA East District 7 Representative
For this production of the 1964 Broadway hit musical "Fiddler on the Roof" for Saffron Walden Musical Theatre Company, Director Martyn Harrison had employed his considerable professional experience. With Audrey Harris as assistant Director and newcomer Paul Garner as Musical Director, this production team had created a truly innovative and inspirational piece of musical theatre.
The audience were visually captivated by the simple, but stunning, open stage set of real coppiced silver birch trees against a black backcloth. The orchestra were hidden behind a screen of silhouetted rooftops at the back of the stage, with an aperture through which the fiddler on the roof (Bruce Godfrey) was spotlighted. The apron extended over the space normally occupied by the orchestra, fronted by an access ramp, decorated with a rustic palisade, complete with a store for Tevye's full-size cart. This had the effect of bringing the audience closer to the action, whilst providing a noticeably improved quality of musical support for the performers than is usually obtained by having the orchestra positioned in front of the stage, without the benefit of an orchestra pit. The use of simply crafted stage props, re-set by cast members, allowed for seamless and quick changes between scenes, vital in a show of this length.
"Fiddler on the Roof" is a musical rich in memorable songs and full of humour, warmth and life and this performance certainly lived up to expectations! Every member of the strong cast was confident and believable in their portrayal of this tale by Sholem Aleichem, set in the small Jewish community of Anatevka in Tsarist Russia in the early 1900s. Mike Sykes was magnificent in the demanding role of God-fearing Tevye, struggling to maintain his strong Jewish traditions, despite his three eldest daughters rebelling against arranged marriages and wishing to marry for love. He was well-supported by Louise Constable-Maxwell as his argumentative, but loyal wife Golde, their duet Do You Love Me? particularly poignant and enjoyable.
In their roles as Tevye's daughters, Lizzi Mills as Tzeitel, Rachel Glibbery as Hodel and Annabel Stringer as Chava, showed true emotion in their pursuit of happiness. They were well-matched by their respective suitors: Bob Rawlinson as Motel, the tailor; Alex Knibbs as the Marxist student Perchik and Richard Foster as Fyedka, a young man of Christian faith.
The standard of singing for all principal and chorus numbers was exceptional, due to Paul Garner's enthusiasm and evident expertise as Musical Director. Siobhan Austin-Guest, as choreographer, had devised some vibrant and well-crafted dance routines, the bottle dance at Tzeitel and Motel's wedding was quite riveting! The costumes were authentic and colourful and added significantly to the overall visual enjoyment of the performance - the costume for Maureen Gypps, as the spectre of Lazar Wolf's dead wife Fruma-Sarah in Tevye's dream scene, quite spectacular!
This was a truly outstanding and quality performance and I commend everyone, cast, back stage and techincal crews and production team, for their dedication and hard work in achieving such a high standard. Thank you all for a memorable evening's entertainment.