Singing in the Rain (Youth Group Production)
Wed 11th Nov 2015 to Sat 14th Nov 2015
Don Lockwood is a popular silent film star with humble roots as a singer, dancer and stuntman. Don barely tolerates his vain, shallow leading lady, Lina Lamont, though their studio, Monumental Pictures, links them romantically to increase their popularity. Lina herself is convinced they are in love, despite Don's protestations otherwise.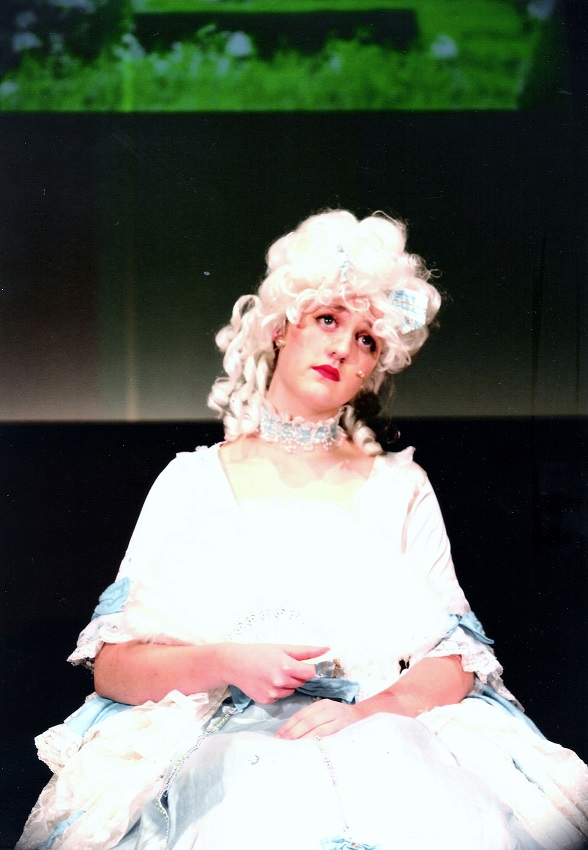 NODA REPORT
13th November 2015
Director - Fiona Wilson Waterworth and Matthew Chancellor
Musical Director - Debbie Turner
Choreographer - Jessica Kambitsis
Report Author: Sue Hartwell
After their phenomenal 3-year run of NODA District 7 Shield award-winning productions, SWMTC's youth group chose this year to stage this more traditional-styled musical comedy, based on the classic MGM film musical, first released in 1952. It's a gentle and nostalgic satire of the film studio industry and its transition from the silent movies to the "talkies" in 1920 Hollywood. It follows the fortunes of Don Lockwood, a popular silent film star and his rather shallow and spiteful leading lady Lina Lamont, to whom he's romantically linked by his boss, R.F. Simpson, the Head of Monumental Pictures as a publicity ploy. Don finds true love in a chance meeting with Kathy Selden, a would-be stage actress and singer who, in the studio's newest venture, a musical, "The Dancing Cavalier", agrees to 'voice over' for Lina, whose grating speech is totally unsuitable for talking pictures. This plan has disastrous consequences when Lina discovers the truth and threatens to sue the studio.
Following the overture, giving us a taste of the well-known songs from the score, a gorgeously plush red festoon drop curtain, replacing the main stage curtains, rose to reveal the opening scene, the premiere of Don Lockwood's latest silent film, which was being projected on the backcloth. Subsequent scenes were played out against a background of black flats, with projected images of typical 1920 interiors, the flats then pivoting to reveal a nicely painted street scene, which, in the opening to Act 2, was embellished with the iconic street lamp for the "Singin' in the Rain" number. The technical team had also produced a very authentic representation of the first test screening of the studio's new 'talking' picture, when the actors' dialogue is barely audible and the sound then goes out of sync - a very comical moment! The lighting plot was simple and effective, but there were some prolonged blackout pauses between scenes, which slowed the pace somewhat.
Matthew Chancellor, as Director, had chosen his cast well. Alex Holder is an accomplished young actor and dancer, with a good voice, who brought a genuine warmth to his performance as Don Lockwood. He was admirably supported by Florence Russell, cast as his loyal friend and female confidante, Connie "Cosmo" Brown, who almost stole the show with the acrobatic choreography in her number "Make 'Em Laugh". Thirteen-year-old Holly Brailsford was very confident and self-assured in her role as Kathy Selden, with a delightfully pure voice. Kirsty Smith, as Lina Lamont, was every bit the ambitious, hard-nosed, starlet with the awful high-pitched and grating voice, aided and abetted by her dresser and informant friend Zelda Zanders, nicely played here by Imogen Chancellor. Alex Rowntree, as R.F. Simpson, portrayed well the harassed Head of Monumental Pictures, with Harvey Redfern, well-cast as his side-kick Roscoe Dexter, the Director of Don and Lina's films. Other principal roles were played by Alex Berry as the effusive radio show host Dora Bailey and Jonny Brace as Clark O'Connor, who gave us a delightful rendition of "Beautiful Girls", accompanied by the dancers and singers of the female chorus in a "Busby Berkeley" style routine. This was a refreshing interlude from the tap dances which accompanied most of the musical numbers. Other cameo roles were nicely played by Jasmine Cairns, as Lina's diction coach Miss Dinsmore, Zoe Antoniou-Tibbits as Rhoda Kelly, Tom Rowntree as Sid Phillips, Daniel Matthews as a film extra and policeman and Zoe Kambitsis as Jean (a lady in waiting). They were well supported by a small chorus, who sang and and danced their way enthusiastically through the performance, accompanied by a well-restrained orchestra, under the direction of Debbie Turner.
The costumes were a mixture of classic 1920's styles, but colourful, contrasting well with the dark background of the set and the choreography by Jessica Kambitsis was well-suited to the music, though, just occasionally, there was a little raggedness and bunching up in the line-ups for some of the chorus numbers. I did wonder, too, why the chorus kept their umbrellas closed in the show's title song, with simulated rain effect lighting - was this intentional, due to lack of space, perhaps?
Overall, this was an enjoyable performance, but, for me, it just lacked that extra sparkle and slickness that I have come to expect from this extremely talented, award-winning youth group.